Category: Parts
Fans
---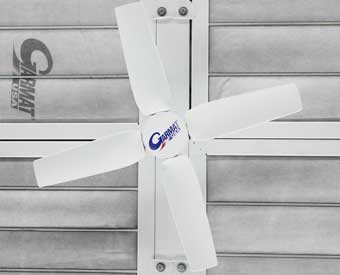 Part # part-20
---
Fan selection is crucial to spray booth performance. The difference in design has a major impact on the stability and consistency of airflow, the useful life of the filter and the long term durability of the motor and the bearings.
Axial Fans are designed to move high volumes of air. Tube axial fans are the typical axial fan design used in spray booth applications. They are generally chosen for their low price point, not necessarily for their effectiveness. Tube axial fans are sensitive to changes in static pressure that is the resistance to air movement. As filters load the capacity of the fan diminishes quickly.
Centrifugal fans accelerate air radially by changing the direction of the airflow. They are quiet, reliable and capable of operating over a wide range of conditions. There are several types of centrifugal fans, but the three most efficient designs include forward curve, reverse incline and airfoil backward incline fans.
Forward Curve Fans the most efficient for a given set of conditions IE HP, size, and initial static pressure. Prone to collecting over-spray, these fans are best used on the supply side, and are not recommended for use in exhaust applications.
The reverse incline fan uses blades that curve against the direction of the fan wheel. The backward direction of the blade creates a vacuum of air that surrounds the blades thereby reducing over-spray build up. These fans are highly effective over a wide range of static pressure, and provide more consistent air flow as the filter load.
The airfoil reverse incline fan is a recent improvement on the reverse incline fan for increasing efficiency. The airfoil design of the blade allows the fan to run at a higher speed more efficiently, and with less noise, than the standard reverse incline, while still offering the benefits of the backward incline fan.