Category: Parts
Control Panels
---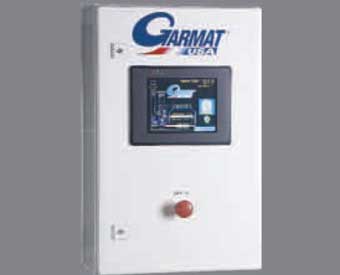 Part # part-30
---
Control Panels
Garmat control panels are built in our very own 508A ETL listed shop so every panel produced is built to the most recent ETL specifications. Employing our own ETL shop allows for infinite possibilities in customizing each shops panel, from the simplest functions to a touch screen complete with any imaginable paint recipe. Garmat certified staff quality controls and tests every piece of equipment that leaves the facility; we are not dependent on standards set by an outside company so we can ensure that the panel meets the quality standards Garmat Equipment is known for.
Although Garmat control panels are custom to fit each shop's needs, the parts that make up the panel are easily accessible and available. Since our parts are not proprietary or ordered from outside the U.S., your downtime is minimized by not having to wait for parts to become available.
Garmat control panels are designed to make every job more efficient and affordable. Automatic operations of spray, purge, cure and cool down cycles can be pre-set or adjusted. The photohelic gauge gives you automatic cabin pressure control and a fully digital temperature control system allows easy programming of multiple set points to accommodate any paint specification.
All Garmat USA products are provided with a listed industrial electrical control panel. All components are recognized, listed or certified by UL, ETL or CSA. All booths come standard with a prewired control panel for reduced field installation time and costs.